AIMR's calcined Kaolin (Chamotte) is considered an important constituent in the Alumina refractories manufacturing. Refractories are those heat-resistant materials which maintain their chemical and physical properties under thermal pressure and a high temperature (up to 3000° C).
Refractories are produced from mixture of compounds and minerals like alumina, bauxite, chromite, magnesium and Kaolin.
 AIMR's refractory grade calcined China clay is the perfect choice for a wide range of refractory applications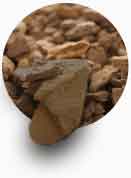 Refractory Chamotte Properties and Grade
Chamotte for Refractories properties
High alumina content
High melting point
Low water absorption
Low expansion upon heating
High plasticity
AIMR provides different grades which are widely used in Europe in the refractories production. Reaching 40% Alumina from natural chamotte makes our calcined kaolin is the lowest cost of alumina unit ever. AIMR supplies different grain sizes like 0-40, 0-1,-1-3,-3-6, and 0-3 mm.
As the Alumina content Al2O3 in our Kaolin increases reaching levels up to 41% after it passes through an extremely high temperature in rotary kiln (calcination process) makes it the perfect binder Chamotte for refractories industry production with the lowest Alumina unit cost in the whole region.