REFRACTORY KAOLIN
AIMR is the largest exporter of Fireclay in Egypt and considered one of the top refractory kaolin suppliers to the European market.
AIMR's Refractory Grade Fireclay (Calcined Kaolin) is considered one of the lowest cost refractory clays in the middle east which makes it the favorite grade for Alumina refractories manufacturers in Europe.
The Alumina content Al2O3 in our Refractory Kaolin reaches levels up to 41% after it passes through rotary kiln (calcination process) which makes it the perfect binder chamotte for refractories industry production with the lowest Alumina unit cost in the whole region.
AIMR supplies the optimized chamotte for refractories industry which have a high control of chemical properties; providing our partners a rich Al2O3 bulk kaolin or sieved ready-to-use China Clay which refractories manufacturers can rely on
AIMR committed and dedicated technicians, mining and production engineers are engaged in each step of the extracting and developing of our raw Egyptian kaolin from its early beginnings, till it reaches our customers warehouses whether in its bulk status, packed in jumbo bags, calcined or sieved on a pre-requested mesh (micron) size, in a time frame and quality standards which AIMR always insure to fulfill its customers satisfaction.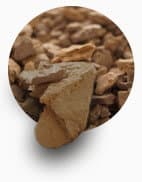 Source of our Kaolin:
Our raw kaolin for the refractories applications comes directly from our mines located in the top region for refractory clays in Aswan, Egypt. Our production of kaolin open-pit mines exceeds 70,000 tons. The raw kaolin is then transported to our facility in Alexandria for the calcination process.
Calcination Process
Using extremely high temperatures reaching 1400 ˚C in 92m long rotary kiln to remove some unwanted elements and to alter the properties of minerals, the calcination of kaolin generally increases hardness and alters the electrical properties of the material. The process also leaves the Kaolin anhydrous (without water).
Our Refractory CHAMOTTE PROPERTIES and Advantages
Lowest alumina unit cost in the region
High alumina content
High melting point
Low water absorption
Low expansion upon heating
Ready to ship calcined kaolin for rush sales orders
Kaolin SIZE GRADING
Working with you to meet all of your refractory production needs, we offer our refractory grade calcined kaolin in wide range of grain sizes. We keep continuous stock from the following sizes:
0-30 mm (Out of kiln grade)
3-6 mm
1-3 mm
0-0.5 mm
100 Microns
45 Microns
Other non-standard sizes are available upon request.
REFRACTORY KAOLIN GRADES
AIMR-RCH07
AIMR-RCH09
AIMR-RCH-41
PACKAGING and shipping
Eager to accommodate your needs, we offer a variety of packaging and shipment options including but not limited to:
Bulk Vessels
Partial Bulk Vessels
Jumbo bags in Containers
Loose bulk in containers
Depending on your country's regulations and restrictions, we can come up with a solution and packaging option to deliver your clay safely and efficiently with the most convenient way to your refractories production process.