Devenir un de
nos fournisseurs
Dans l'AIMR Nous sommes fiers de la qualité de nos produits ; nos matériaux sont très prisés parce que nous avons soigneusement l'EFP et l'interview tous les fournisseurs potentiels.
Nous sommes heureux d'annoncer le lancement de l'exploitation minière durable, programme ou SMP, qui s'appuie sur s'établit notre travail préalable avec les fournisseurs pour améliorer le respect des piliers de notre Code de conduite des fournisseurs y compris:
Les pratiques en matière de droits du travail
La santé et la sécurité dans l'environnement de travail
Respect de l'environnement
L'exploitation minière responsable des ressources
L'intégrité de l'entreprise
Niveau constant de qualité
L'efficacité de la chaîne
Nous sommes dans le besoin continu de la chaux, les fournisseurs, les fabricants et les propriétaires des mines pour une large gamme de matériaux et minéraux couvrant :
Kaolin
Salt Rock
Le feldspath
Le spathfluor
L'ilménite
Silica
La bauxite
L'andalousite
La Mullite
La Dolomite
Encroûtements
Le gypse
Le carbonate de calcium
Le talc
La bentonite
La barytine
Les roches de phosphate
Dans le cadre du Programme d'exploitation minière durable, il vous est demandé de
démontrer la conformité avec le code fournisseur grâce à une série d'activités, y compris :
Au nom de tout le personnel de l'AIMR, je vous remercie pour votre participation active à ce programme. Nous nous réjouissons de poursuivre notre partenariat continu pour construire un avenir plus durable.
01 / Supplier Identification
04 / Corrective Action Plan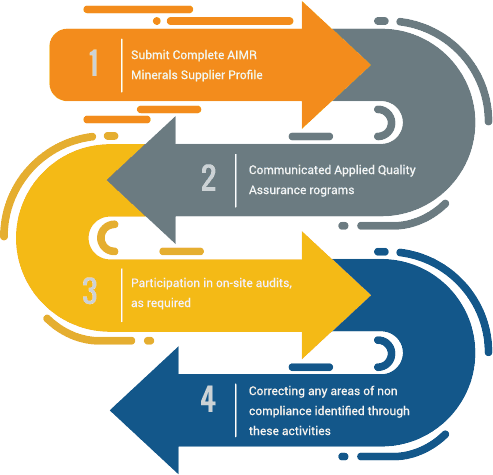 Formulaire de profil de fournisseur
Fill out our AIMR Minerals Supplier Profile Form (AMSP) and someone will be in touch to discuss the details of your supplier application.